Feature of the Month: Monitor Your Cashflow
February 19 2021
Do you know where your money is going? Maximise the full capabilities of your Moneymgmt account by connecting your bank accounts so you can monitor all your cash inflows and outflows.
Moneymgmt is a read-only platform that shows you the activity of your bank accounts. It securely collates information through Yodlee, a globally renowned aggregation service to provide you with a clearer understanding of your financial position. No transactions can be made within the portal and to top it all off, Moneymgmt uses bank-level security so you can confidently use your bank details to login.
Once you have all your accounts set up, any movement of money from any of connected banks are pooled into a single location to make the budgeting and goal-setting tools even more powerful. Find out exactly how much you are spending on each expense category, no matter what institution you use to make each payment!
To add a bank account, go to the Wealth section and click 'Add Item'.
Click on 'Bank Account' and select your Financial Institution in the list.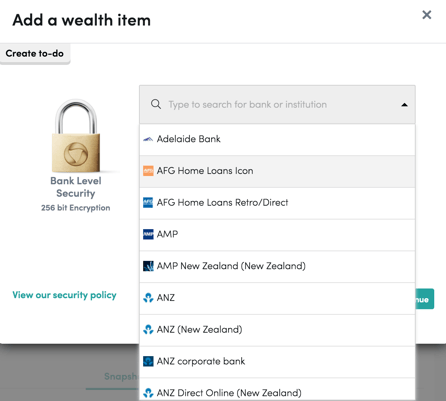 The majority of major banking institutions are listed here, so double-check the name of your bank if you cannot find it at first glance. Don't hesitate to contact us at hello@moneymgmt.com.au, give us a call at 1300 30 80 83, or visit our support page if you're having any trouble!
Once selected, connecting your bank account may take a few minutes to complete, depending on your financial institution. You are now one step closer to accurately managing your finances!
If you haven't downloaded the Moneymgmt app yet, it is available on the App Store and Google Play Store!